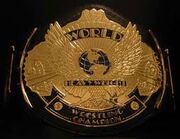 WWE RAW/SmackDown! World Heavyweight Title History WWE RAW World Heavyweight Title [September 2002 - June 30, 2005] WWE SmackDown! World Heavyweight Title [June 30, 2005 - Present]
| | | | |
| --- | --- | --- | --- |
| Name | Date | Location | Notes |
| Hunter Hearst Helmsley | September 2, 2002 | Milwaukee, Wisconsin | 1 |
| Shawn Michaels | November 17, 2002 | New York City, New York | 2 |
| Hunter Hearst Helmsley (2) | December 15, 2002 | Fort Lauderdale, Florida | 3 |
| Bill Goldberg | September 21, 2003 | Hershey, Pennsylvania | |
| Hunter Hearst Helmsley (3) | December 14, 2003 | Orlando, Florida | 4 |
| Chris Benoit | March 14, 2004 | New York City, New York | 5 |
| Randy Orton | August 15, 2004 | Toronto, Ontario, Canada | |
| Hunter Hearst Helmsley (4) | September 12, 2004 | Portland, Oregon | 6 |
| Hunter Hearst Helmsley (5) | January 9, 2005 | San Juan, Puerto Rico | 7 |
| Batista | April 3, 2005 | Los Angeles, California | |
| Kurt Angle | January 10, 2006 | Philadelphia, Pennsylvania | 8 |
| Rey Misterio | April 2, 2006 | Chicago, Illinois | 9 |
| King Booker T. | July 23, 2006 | Indianapolis, Indiana | |
| Batista (2) | November 26, 2006 | Philadelphia, Pennsylvania | |
| The Undertaker | April 1, 2007 | Detroit, Michigan | |
| Edge | May 8, 2007 | Pittsburgh, Pennsylvania | 10 |
| The Great Kahli | July 17, 2007 | Laredo, Texas | 11 |
| Batista (3) | September 16, 2007 | Memphis, Tennessee | 12 |
| Edge (2) | December 16, 2007 | Pittsburgh, Pennsylvania | 13 |
| The Undertaker (2) | March 30, 2008 | Orlando, Florida | 14 |
| Edge (3) | June 1, 2008 | San Diego, California | 15 |
Notes:
1. Title was resurrected and awarded by Eric Bischoff when WWE Undisputed World Champion, Brock Lesnar, was announced to be exclusive to the WWE SmackDown! show. So, Eric Bischoff announced that Hunter Hearst Helmsley is announced as RAW's World Heavyweight Champion. Title unified with the WWE Intercontinental Heavyweight when Triple H pinned Kane on October 20, 2002 in Little Rock, Arkansas.
2. Shawn Michaels defeated Hunter Hearst Helmsley, Booker T., Chris Jericho, Kane, and Rob Van Dam in the "Elimination Chamber" to win the title.
3. Triple H defeated Shawn Michaels in a "Best Two out of Three Falls" match to win the title. First fall was a Street Fight Match. The Second fall was a Steel Cage Match. The third fall was a Ladder Match.
4. Triple H defeated Bill Goldberg and Kane in a three-way match to win the title.
5. Chris Benoit defeated Triple H and Shawn Michaels in a Three-Way Match to win the title.
6. Title vacated by Vince McMahon on December 6, 2004 in Charlotte, North Carolina after a controversial match on November 29, 2004 in a three-way match between Edge, Triple H, and Chris Benoit.
7. Triple H defeated Randy Orton, Batista, Chris Benoit, Chris Jericho, and Edge in an "Elimination Chamber" Match to win the vacant title.
8. Batista vacated the title due to various injuries he sustained on January 10, 2006. Kurt Angle won a Battle Royal to win the vacated title.
9. Rey Misterio defeated Kurt Angle and Randy Orton in a Three Way match to win the title.
10. Edge defeated Ken Kennedy on May 7, 2007 in State College, Pennsylvania for the "Money in the Bank" briefcase, which contains a contract for a title shot at any WWE brand world title. He cashed it in on May 8, 2007 and defeated The Undertaker to win the title after the Undertaker's cage match against Batista. Title vacated on July 17, 2007 due to injury sustained on July 10, 2007.
11. The Great Khali won a 20 Man Battle Royal to win the vacant title.
12. Batista defeated The Great Khali and Rey Misterio in a Three-Way match to win the title.
13. Edge defeated Batista and The Undertaker in a Three-Way match to win the title.
14. The Undertaker was stripped of the title by SmackDown! GM, Vickie Guerrero on April 29, 2008 in Atlantic City, New Jersey.
15. Edge defeated The Undertaker in a "Tables, Ladders, and Chairs" match to win the title.